March 2, 2004
NEW RELEASE
Billboard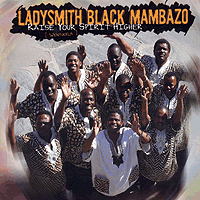 Ladysmith Black Mambazo's latest album is entitled "Wenyukela," which in Zulu means "Raise Your Spirit Higher." But for the renowned South African a cappella group, particularly founder Joseph Shabalala, the new record was borne after an extremely tragic event. In May 2002, Shabalala's wife Nellie was shot and killed outside a South African church by a masked gunman. The murder trial is still ongoing and will resume in early March. Two men, including Shabalala's oldest son, have been charged in connection to the crime. Despite the nightmare, Shabalala says that the group's future was never in question.
"After my wife passed away, I was like, 'I don't know where I am, I don't know what I am going to do.' After it happened, we postponed for two weeks," Shabalala says prior to a Toronto show on the band's ongoing North American tour. "I remember when we went to Malaysia, my mind was out but music was still inside of me because this is the music that comforts me. When I would sing I would think, 'Oh, this is not me! This is a gift from something inside me.'" After taking time to reflect and digest what transpired, including performing at the funeral, the group began writing for the new album. Shabalala says the process was relatively easy. "I just took my time because there were many songs," he says. "Even today, I have many songs and if you take a long time to record, it's difficult to choose because you have many songs. So to put the pieces together it took a long time."
The album, which Shabalala describes as "African gospel," contains 13 tracks including "Music Knows No Boundaries" and "Wamlul' Umshado (Beautiful Wedding)." Shabalala says the original idea behind the record was to create several wedding songs to show how important marriage is. As for a personal favorite though, Shabalala enjoys the title song. "When I was writing that one, I was thinking that the world is not for me," he says. "But at the time, I didn't want to stick within the walls, I wanted to talk to the people to change their hearts, to raise their spirits higher than their problems."
Although coming to Shabalala in a dream in the early 1960s and forming years later, it wasn't until Paul Simon's "Graceland" album that people took notice of Ladysmith Black Mambazo. Literally dozens of collaborations with everyone from Michael Jackson to the Corrs ensued, as did the chance to provide music to "The Lion King, Part II" and other films. But according to Shabalala, the band still enjoys touring most of all. "According to music, everything is beautiful, everything is very, very nice," he says. "But when you have something beautiful, you need more people to come and clap hands for you and help you to do this and that. People started to say this is just like DNA, this music enters the blood because it comes from the blood. New CD on sale here
Posted by acapnews at March 2, 2004 8:45 AM
Comments
Post a comment