October 1, 2004
NEW RELEASE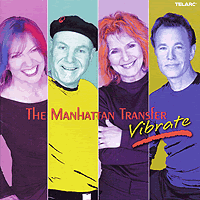 Multiple GRAMMY winners The Manhattan Transfer released their latest CD "Vibrate" this week, their first studio recording in three years. The recording opens in familiar territory with "Walkin' in N.Y.," a track that hits the ear like classic Transfer—bright, ear-catching and balanced to harmonic perfection. "When I first heard this tune, I immediately thought of The Transfer and what Manhattan has meant to us in our career, especially our early days," says Janis Siegel. "(Composer) Brenda Russell captures this buoyant feeling so completely, a kind of sassy strut down the city streets that makes you feel that nothing can go wrong."
The sequence continues with "Greek Song" and "Vibrate," both penned by Rufus Wainwright. "'Vibrate' jumped out at me as having deeper pools of emotional resonance and great capacity for musical re-invention," says Siegel. "I love the juxtaposition of the modern images in the song with the bittersweet, delicate tango arrangement, and it's orchestrated by two of my most favorite musical architects, Roger Treece and Gil Goldstein."
"The New JuJu Man (Tutu)," a piece from the latter-day Miles Davis canon (penned by Marcus Miller with lyrics by Jon Hendricks), leads off with Cheryl Bentyne's high-end vocals bearing an uncanny resemblance to the syncopated blasts of a trumpet. "'Tutu' is the culmination of all that (Miles) was: stark, potent, delicate, masterful, and exact in execution," says Bentyne. "As a vocalese piece, this is by far the most abstract, yet right in the groove, journey we have taken. Miles' solo was, for me, a study in subtle nuance, lithe expression and piercing reality."
Further into the album, "First Ascent" opens with a compelling tribal drum riff, which segues into The Transfer's trademark dead-on vocal harmonies arranged in an exotic modality. The whole package is wrapped in an unusual syncopation that makes for a highly atmospheric piece. "My lyrics are thematically about creative inspiration and the first ascents of certain individuals who stand out in history, like Einstein and Neil Armstrong," says co-author Alan Paul, who wrote the piece with Billy Hulting and Bob Mair.
The Transfer bring it all back to familiar territory with George and Ira Gershwin's "Embraceable You," and the closing medley "Come Softly To Me"/"I Met Him on a Sunday." "Let us never overlook the classic standards," Bentyne says of the Gershwin tune, a piece that the group has been performing live for nearly two decades. "I think we still embrace the beauty of perfection that this piece has offered us for so many years. What a joy to finally record it."
Watch a video of an interview with the group. Listen to "Walkin' in N.Y" . Currently on special at Primarily A Cappella.
Posted by acapnews at October 1, 2004 12:23 AM