« Singers fall silent after 33 year run | Main | Passionate theme a success »
April 13, 2005
Harmony Sweeps National Finals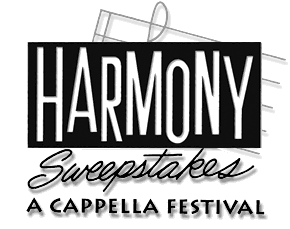 After the last regional event this past weekend the line up for the Harmony Sweepstakes National Finals is now complete. We are so pleased to report that all eight regional events were resounding successes with large audiences enjoying top knotch performances at every event. Now in it's 21st year this event has become the place for new and rising groups to display their talents and the National Finals are a major highlight in the a cappella world.
The regional champs are:-
BOSTON - Firedrill!
CHICAGO - Fiveplay
ROCKY MOUNTAIN - Face
LOS ANGELES - Undivided
MID-ATLANTIC - Cartoon Johnny
NEW YORK - Traces
PACIFIC NORTH WEST - Groove For Thought
SAN FRANCISCO - MoodSwing
Hosted by 2004 National Champs - CHAPTER 6
For further information on the event and the participating groups click here.
HARMONY SWEEPSTAKES A CAPPELLA FESTIVAL NATIONAL FINALS
Saturday May 7, 8 PM
Marin Veteran's Auditorium, San Rafael, California
(Just over the Golden Gate Bridge from San Francisco)
Tickets 415-499-6800
http://www.ticketmaster.com
Posted by acapnews at April 13, 2005 12:49 AM