« Barbershoppers sing in praise of harmony | Main | BBC series on a cappella »
May 9, 2005
Harmony Sweeps National Finals results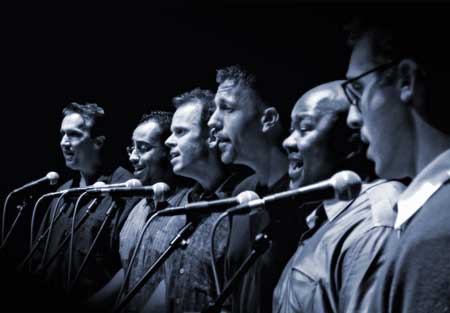 Pacific Northwest regional champs Groove For Thought took top honors this weekend by being crowned National Champions at the Harmony Sweepstakes A Cappella Festival National Finals. With only a few points separating the groups it was one of the closest competitions in years and once again the sell out crowd was treated to some top notch a cappella singing. As producers of the show we try hard every year to truly find the most exciting groups from around the country and to have the event be a showcase, not only for them, but for a cappella music in general. I think we can confidently say we have accomplished that once again this year.
Thanks to all the participating groups in our many events, to the regional producers for all their hard work and a special thanks to the audiences who year after year come out and support our shows. Here are the complete results and a report from the concert.
NATIONAL CHAMPIONS - Groove For Thought
2nd Place - Face (Rocky Mountain)
3rd Place - Fiveplay (Chicago)
Audience Favorite - Face
Best Original Song - "Walk the Straighter Road" Kevin Kunz - Groove For Thought
Best Orginal Arrangement - "Paper Moon" Greg Murai - Moodswing

SAN FRANCISCO - For the 21st year in a row, top a cappella groups and a couple of thousand hungry a cappella fans met up for the Harmony Sweepstakes National Finals Saturday, May 7th.
In front of a packed, capacity crowd at Marin Veteran's Auditorium, 2004 champs Chapter 6 opened the show with a song and introduced the first of the night's competitor groups - New York's Traces, also the first female African-American group at the Sweeps Finals.
Traces' multi-genre-crossing set started with Take 6 ("Mary") and moved on to Singers Unlimited ("Lullaby'), Sting ("English Girl in New York"), The Real Group ("Flight of the Foo-Birds") and Stevie Wonder ("All I Do"). It ended on an introduction-to-each-member's-abilities medley, which included snippets of "Got To Be Real" and "Bad."
Boston's Firedrill! was next. Comprised of numerous award-winning college a cappella and Hyannis Sound alumni, this was a group with many hours of experience entertaining and competing, a cappella-style - even though they won the Boston regionals on one of their very first public performances. Their set included "Chain of Fools," "Can't Stop Thinking about You" and a humorous take on "Suite: Judy Blue Eyes."
The third competitor of the evening was Fiveplay, from Chicago, one of the a few groups in the show to have won their regional Sweeps on their very first gig. Fiveplay opened with a re-working of the Blenders' "Get Ready," called the "Fiveplay Theme Song." Their next song was the first original of the evening, "I Never Knew," written by former Blind Man's Bluff member (now Fiveplay member) David Wilner. The strangely-timed "Holy Night" was next, and they closed with Stevie Wonder's "I Wish/Superstition." Fiveplay ended the night with a 3rd place finish, on only their second public gig.
Last before intermission was Face (Denver). They began their set a cover of the THX sound familiar to movie-goers, a move which immediately won the crowd. Their first full-length song was "Safety Dance" by Men Without Hats, followed by the instrumental "Pink Panther Theme" and ending with Maroon 5's "Harder to Breathe." It was clear based on the applause that this group would be taking home at least one award - Audience Favorite. The judges also liked the group, placing them 2nd.
After intermission, locals Moodswing came out. With two of their members coming from former National runners-up +4db, this was a group with experience on the Harmony Sweepstakes stage, as evidenced by the fact that they, too, had won their regionals on their first public performance. Their Jazz set included "St. Thomas," "Paper Moon," "I'll be Seeing You" and "Moanin'." In the end, they won The David Lichtman Award for Best Original Arrangement for "Paper Moon."
Seattle's Groove for Thought comes from the same region that brought forth previous National champs The Coats and m-pact - and in 2005, the title is going back to the Pacific Northwest. Opening with a cover of "Joy to the World" that was at times reminiscent of Take 6, their second song was the Best Original winner "Walk the Straighter Road." They ended with the third Stevie Wonder cover of the night, "I Wish."
While a number of groups in the show included members who had competed before in other groups, LA's Undivided was the only entire group returning, having appeared on-stage in Marin for their the first time in 2003. They began their set with an original ("What's Going On"). Their second song, "La Murga De Panama (The Fiesta of Panama)" was performed in the Cumbia style, a musical genre not frequently heard in a cappella competitions in the U.S. "More Love To Thee," featured a "dysfunctional" quartet that changed off vocal parts. They ended the set with an arrangement of "Amazing Grace" that spanned multiple genres.
The Mid-Atlantic region's Cartoon Johnny, one of only two mixed groups in the Sweeps finals, advanced to the Finals on their third year of competition. They were the last group to compete before the judges left to deliberate. Their set consisted of three contemporary songs - "Rock Your Body," "Crazy Love" and the last Stevie Wonder cover of the evening, "Signed, Sealed Delivered."
After a quick set from outgoing champs Chapter 6, which featured their signature "Wizard of Oz," the awards were announced, Face came out to do the Audience Favorite encore, and all the groups gathered to sing the show closed with the traditional "Goodnight, Sweetheart."
-----------------------
Former CASA Vice President and former producer of the Contemporary A Cappella Recording Awards Jessika Diamond is a staff writer for Primarily A Cappella.
Click here for further info about the event
Posted by acapnews at May 9, 2005 9:13 PM