« Umfolsi Lacked African Energy | Main | Be happy, go on vacation. »
August 12, 2005
The Magnets - Magnetude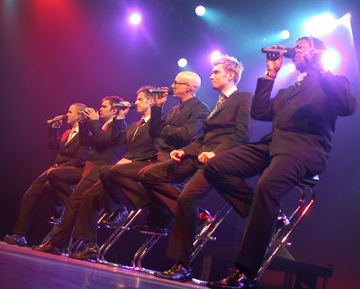 The Scotsman (Scotland):
A boy band to outwit all other boy bands, The Magnets are dazzling. Following the path of The Flying Pickets and Cuba's Vocal Sampling, this six-man a cappella group doesn't just stick to inventive harmony singing. Defining themselves wittily as a V'n'B (vocals and beats) group, two of them are vocal percussionists layering in backing instruments. Colin provides the very cool bass, while Andy uses lips and throat to create the sound of beatbox, scratching and ultimately a full drumkit with high hat and cymbals.
The joy of this show is the way the singing is inserted into a tongue-in-cheek pastiche documentary with cinematic overtones. In pre-recorded epic voice-overs, actors Jacqueline Pearce and Ian McKellen describe The Magnets' sharp-suited existence from the time of Biblical oracles. We learn how, as "chosen ones", they abandoned aspiring careers to become Magnets - one gave up being a Tom Cruise look-alike pilot (cue Take My Breath Away); another eschewed double-glazing sales to become a vocal percussionist.
Not that any song given the Magnet treatment is sung straight. More re-creations than covers, each piece is as brilliantly choreographed vocally as it is physically. The storyline allows them to dip freely into eclectic grooves, from classics like Rocking the Boat (from Guys and Dolls) to Michael Jackson's Billy Jean.
Their sense of timing is breathtaking, their musical arrangements subversive. The sound engineer who facilitates the split-second vocal effects deserves an award. Both Toby Davies' script and Laurie Samson's production include an abundance of ironic and witty pop culture references. A breathtaking, sexy and postmodern show.
The above show is part of the acclaimed Edinburgh Fringe Festival which also presents another a cappella group, Out Of The Blue.
The Herald
The great thing about a cappella groups is that they're so portable. So, when the enterprising Out of the Blue's show was delayed, they serenaded the queue on Chambers Street with A-ha's Take On Me.
Inside, things were brought up to date, opening with Robbie Williams's Let Me Entertain You – and they will. A dozen well-scrubbed and suited Oxford University students, they reproduce hit songs including Blur's Country House and the Friends theme with hand-clapping, massed air-guitar parts, Beach Boys-esque harmonies, beat boxes and some slick, funny moves.
If their voices had the same impact and quality individually as they do collectively, they could really make a stir. But, as things stand, they're good value and getting an enthusiastic audience reaction.
Posted by acapnews at August 12, 2005 9:53 PM