« Tonic Sol Fa delivers with upgraded production | Main | Vocalesence directors gets high British award. »
December 3, 2005
Trio puts past, present in harmony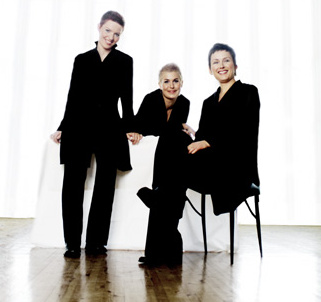 Rocky Mountain News (CO):
The phenomenon that was Anonymous 4 unofficially ended last year when the fab four, all-woman vocal ensemble quit touring.
Exit A-4, enter the Trio MediŠval
On Thursday night in a surprisingly full Gates Concert Hall, the Norwegian threesome made their local debut in a Newman Center Presents holiday concert. Surprising, in that the three women have been on the scene for only a few years and thus haven't enjoyed the high level of media exposure that helped catapult their predecessors to stardom. What the two groups have in common - and what seems to excite their audiences - is an unearthly ability to float through an evening of serene music from long ago.
Considering that the human vocal cords haven't changed much in the past 1,000 years, it's safe to say that the a-cappella music sung in the 12th or 13th centuries sounded pretty much like what the Gates audience heard Thursday. You'll have to admit, that's pretty special.
Alas, Trio MediŠval also shares with Anonymous 4 a total disinterest in chatting with their listeners between songs. Too bad, since it would have been nice to hear them introduce themselves and the intriguing offerings of ancient and contemporary pieces sung in tight, ethereal, often hypnotic harmony.
The Norwegians are not, however, a Scandinavian version of the retired foursome. We just gave two clues as to why the trio is, if anything, even more delightful than the departed American quartet. Anna Maria Friman, Torunn ěstrem Ossum and Linn Andrea Fulseth (standing onstage from left to right on Thursday) bring a wider range of repertory than Anonymous 4, while singing in three-part harmony - a refreshing departure from the quartet's often numbing reliance on unison singing.
Whether in English carols from the 15th century, traditional Norwegian songs or in modern works written for them by Gavin Bryars and Isobel Davies, the three singers blended with remarkable ease. The perfection of the harmony never flagged, while the three-part writing also never outwore its welcome.
Davies' Hymn to Seinte Mari, in particular, dazzled listeners with its pleasurable mix of close harmony with some equally intriguing close dissonances. Similarly, the English carol Nowell, nowell was a fluid blend of intertwining harmonies that were both astonishing in their intricacy and direct and honest in their simplicity. The Latin text of the Sancta Mater from the 13th century was sung in a mystical round that made the passage of time immaterial. Come to think of it, maybe it's best that the trio didn't break the mood with idle chatter.
Posted by acapnews at December 3, 2005 12:45 AM