« Choral directors told not to share bedroom | Main | Prisoners sing for redemption »
January 4, 2006
Harmony Sweeps 2006 season begins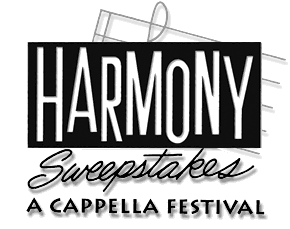 The New Year brings another season for the acclaimed Harmony Sweepstakes A Cappella Festival and as usual we seek vocal groups who would like to participate in our events. Our regional shows offer groups the opportunity to perform in front of enthusiastic audiences along with celebrity judges who decide upon a regional champion. These winners are provided airfare and hotel rooms for two nights in the San Francisco Bay Area and the chance to perform at the prestigious National Finals.
Groups of any style are very welcome with the only criteria being the groups must have between 3 to 7 members and sing unaccompanied by musical instruments. Always fun the Harmony Sweeps is a great opportunity to find new fans, meet other groups and to perform in a respected venue.
Interested groups are encouraged to submit their applications soon as submission deadlines are approaching.
HARMONY SWEEPSTAKES SCHEDULE 2006
Boston - March 25
Chicago - March 25
Los Angeles - April 1
Mid-Atlantic (DC) - April 8
New York - February 25
Pacific NW (Olympia) - March 18
Rocky Mountain (Denver) - March 18
San Francisco - February 25
National Finals – May 6
For contacts, rules and further information please visit our web site
Posted by acapnews at January 4, 2006 12:49 AM