« It's not their granddad's barbershop quartet | Main | Big-band Voices prove too much for the audience »
April 6, 2006
Eric Whitacre joins Tech in concert
Virginia Tech Collegiate Times (VA):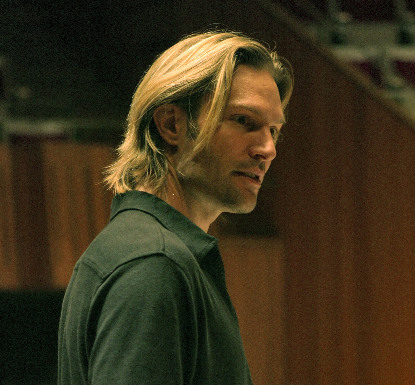 When the word "composer" is brought up in conversation, names like "Mozart" or "Bach" are typically quick at hand. If someone in the group is especially interested, there's a small chance "Handel" or "Mendelssohn" might make an appearance. It's important to remember the classics, but it's also foolish to ignore the great talents that create exceptional music today. This week, Virginia Tech welcomes one of the most talented contemporary composers in the world, Eric Whitacre.
Though he began formal training at age 18, Eric Whitacre has led an astounding career in music. After a life-changing experience in college choir, Whitacre was accepted to attend the prestigious Julliard School, where he acquired his Master of Music degree. He has since composed an impressive portfolio of choral and band music and has traveled the world as a lecturer and conductor to inspire musicians everywhere.
"I didn't choose music. It chose me. I stumbled upon making a living just doing what I loved to do," Whitacre said. Whitacre said that getting to visit different schools and tutoring young musicians was "the best part" of his career. The students of the University Chamber Singers and the University Symphonic Wind Ensemble were happy to host Whitacre for a three-day stay at Virginia Tech, culminating in a concert showcasing a few of his most beloved compositions this evening.
"Exploring Eric's music with our students has been a profound joy. As a composer, his musical voice is direct, poignant and indelible," said Patrick Casey, associate professor of music and director of the University Symphonic Wind Ensemble. Each ensemble has worked hard in preparation for Whitacre's stay, though students believe their hard work will be worth it.
"After first being exposed to Eric Whitacre's work through performing 'October' in high school, I have looked forward to performing more of his compositions. For him to be in residency with us, and for us to play a variety of his works is truly an exciting time and a wonderful opportunity" said Megan McCollough, senior civil engineering major and University Symphonic Wind Ensemble member. During his time here, Whitacre worked with Tech musicians in a series of rehearsals and master classes. He will also serve as a guest conductor for tonight's concert.
"I feel very lucky to experience working with such an amazing composer, and conductor, here at Virginia Tech — it's almost like having Michael Jordan come help out with the basketball team," said Emily Van Pelt, sophomore music education major and a member of both the University Symphonic Wind Ensemble and the Women's Chorale. Casey has collaborated with Choral Director Brian Gendron to organize the event. "They are excited to sing under Mr. Whitacre and to hear about his compositional process," Gendron said of his students.
I had the pleasure of meeting Eric recently and must say that as a rising superstar in the choral world he certainly has the movie star looks to go along with. My wife was gaga..
Posted by acapnews at April 6, 2006 12:20 AM