« A cappella on new Neil Young CD | Main | NBC seek Singing Groups »
April 27, 2006
m-pact signs with Primarily A Cappella, releases new CD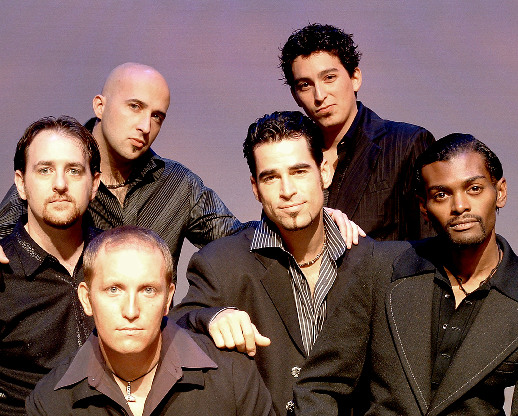 We are so pleased and proud to announce that m-pact, one of the most exciting and talented a cappella groups performing today, has signed with our very own Primarily A Cappella Records. Winners of BillBoard's prestigious "Best Unsigned Band" contest, Los Angeles-based vocal group m-pact was also crowned Best Vocal Group at the 2005 LA Music Awards and have been one of our favorite groups on the planet from the first time we saw them on the stage of the Harmony Sweeps Finals, easily taking Audience Favorite and the National Championship.
Originally based in the Pacific Northwest the entire group relocated last year to LA in search of more group and individual opportunities in music. They also have added a sixth singer, Jeff Smith, who was previously with Kansas based ensemble "measure x measure". The group continues to keep very busy including four trips to Europe last year, with a concert in Switzerland with Boyz II Men, a vocal jazz festival with The Real Group, Take 6 and New York Voices and a tour of Latvia and Estonia where they appeared on national TV. They had their 8th and 9th trip to Italy where they have built a large following and there are plans for a tour of Asia later in the year to Japan, Taiwan and China. Other good news personally for the group is the marriage of Rudy this past March and the upcoming marriage of Jake in June.
The new self-titled release is the first to be distributed nationally and comes after the group has sold in excess of 50,000 units of their earlier titles by themselves. It is their first studio CD in over 5 years. The tagline on "m-pact," "experience the voice," refers to the pure, sumptuous tenor/soprano of Britt Quentin, whose creative arrangements, production and even engineering are evident on all 14 tracks. Especially fine are his arrangements that reinvent classics such as Cole Porter's "Night and Day," Rogers & Hammerstein's "My Favorite Things," "Over the Rainbow," Lerner & Lowe's "Almost Like Being In Love," "Bluesette," the Four Tops' "Baby I Need Your Loving," and "What Are You Doing the Rest of Your Life." The opening cut is "You Need to Know," a sassy, walking-jazz original by Britt, who also shines on lead. He also wrote (or co-wrote) and sings lead on the mellow finger-snapper "I Found A Love In You" and vocal percussion gem "I Thought You Cared For Me." Trist, Marco, Jake, Rudy and Jeff add their own incredible vocal talents to a smooth, sophisticated recording that surprises and touches on many levels.
The recording's official release date is May 16 when it will be available nation-wide but we are making it available right now (and at our usual low sale price). We won't over-hype it here (our reviewer went nuts!) but suffice to say we believed enough in these wonderful singers to "put our money where our mouth is" and are very glad indeed we did. It is also very satisfying for Primarily A Cappella to be able to contribute and assist in creating such great a cappella recordings that may not otherwise be released. Our recently released Vox One title is selling very well and we have other exciting projects in the pipeline as we continue our support and encouragement of a cappella artists.
Posted by acapnews at April 27, 2006 11:11 PM