« Warm voices from a cold war | Main | View Manhattan Transfer on Emeril »
November 25, 2006
Tonic Sol-Fa builds success, not fame
Sioux City Journal (IA):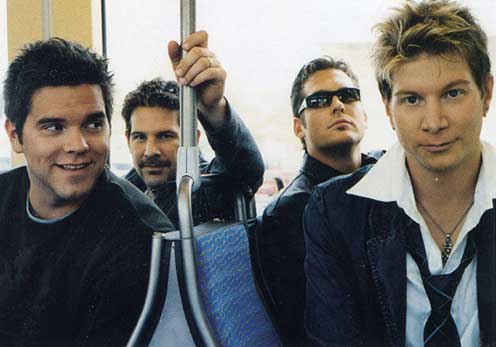 Why isn't Tonic Sol-fa bigger? It's a question fans have been asking for years. Why aren't the Minnesota-based singers challenging pop, country and gospel groups for the big awards? Why aren't they on all the late-night talk shows or playing huge arenas? "It's a question of success over fame," says Shaun Johnson, the group's lead singer. "Fame is fleeting. Success is built."
If you look at the a cappella group's climb over the past decade, you'd see growth. General Mills offered Tonic Sol-fa CDs one year. Later, the "Today" show asked them to sing Christmas songs. In the past, Newsweek has written about their marketing strategies. This year, Public Television stations will air one of their past holiday shows.
Attention? They get it. But, says bass Jared Dove, "It's a gradual thing." "We've done great things," Johnson adds, "but we've got to have that synergy." A story in Newsweek, for example, has to coincide with the release of a CD, a concert tour and an appearance on a network television show. "If you've got three or four things going at once, people pay attention."
Then, too, there's the field they're in. A cappella doesn't exactly burn up the CD charts. Of the groups springing up around the country, Tonic Sol-fa is among the most successful. If a cappella is going to make headway, Tonic Sol-fa has to blaze the trail. "People have told us we should add instruments, learn some dance moves and we can be successful," Johnson says. "They'll say, 'If you do gospel and move to Nashville, you guys will be huge. If you go to Branson and sing old songs, you'll be huge. If you go to Vegas and do cheesy bits, you'll be huge.' Everybody in every venue has said that to us."
But there's something the four would sacrifice if they did roll the dice -- control. Now, because they do much of the legwork, they're able to control what they sing and say on stage. Under a record label's aegis, they could be asked to change. That's not always a good thing. "We've performed with many stars who are now deejaying in Florida," Johnson says. Conversely, "we've had a 10-year career that keeps growing every year."
The four figure their career has built because they're calling the shots. "We're control freaks," says Dove. "We've been doing this for a long time ourselves. We want to make sure it doesn't change so drastically." Fans, in fact, love the folksy quality Johnson, Dove, Greg Bannwarth and Mark McGowan bring to their shows. They like the interaction. They enjoy the comedy.
A bigger problem for the four is knowing what contributes to their success and what doesn't. Plastic Santa -- a feature of several previous holiday shows -- has been a real source of debate. Should the bit die? Or should it stay? "Some are extremely tired of him, like myself," Dove says. "Some want to see him stay." Nothing more than a cheap yard ornament, Plastic Santa has come to embody the goofiness that is Tonic Sol-fa. "We're up there being goofballs," Bannwarth says. Plastic Santa is a way to bring comedy into the act. But is it the right vehicle? "Ultimately, we just want the fans to enjoy us for who we are," Dove says.
To prove the quartet is trying a different approach, there'll be an opening act -- country singer Bryan White -- on six of the concert dates. "He's doing an acoustic set and we think he'll complement us," Bannwarth says. Interestingly, Tonic Sol-fa opened for White eight years ago. Tastefully Simple is partnering with Tonic Sol-Fa this year, too. The food company has a special "gift pack" featuring the group's best-selling holiday CD. Other tie-ins are in the works.
Pointing to Mannheim Steamroller as a trailblazer, the four say founder Chip Davis was able to achieve success on his terms. "Like Greg has said many times, we'd like to compete with other groups, but to do that you have to build," Johnson says. "It took Chip and his New Age thing time to get there." So it is with Tonic Sol-fa.
While the quartet has performed across the country, it focuses on a 10-state area. When something like the General Mills promotion introduces them to new audiences, they inevitably get requests to perform. The PBS special, they say, could crack things in a big way. Slated to air on more than 200 stations, it will give Tonic Sol-fa the largest audience yet. "You've got to take a chance on it," Bannwarth admits.
"There are lots of a cappella groups around the country but they don't get beyond their towns or colleges," he adds. "You don't know how good you are until you take it other places." For Tonic Sol-fa, holiday ticket sales are a real gauge. "Every single venue except one is up this year," Johnson says, "so we must be doing something right."
Posted by acapnews at November 25, 2006 12:19 AM