« 2007 Harmony Sweepstakes National Finals results | Main | "The Believers" - movie about transgender choir »
May 8, 2007
Kickshaw reunion
The Herald (WA):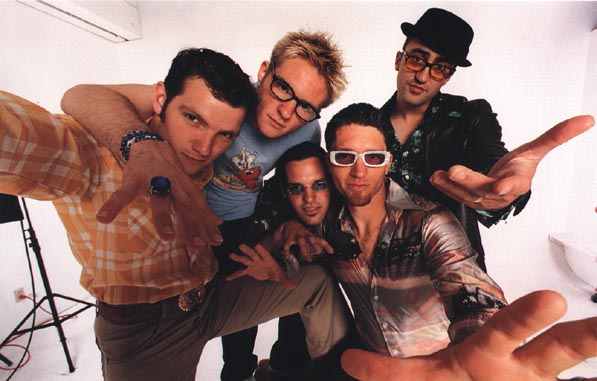 Jim Castaneda, Blake Lewis, Danny Figgins, Andy Marshall and Dan Schumacher
Award-winning Northwest a cappella singing group Kickshaw will reunite tonight during a free viewing party at Alderwood Mall in support of former band mate and "American Idol" contestant Blake Lewis.
Kickshaw gained fame for the better part of a decade with high-energy shows throughout the western United States and Canada. The group's style was cutting-edge mouth music and it hit a high point when Lewis joined the group and spent about three years with them.
The reunion performance kicks off at 6 tonight with an open mic karoke contest at the Alderwood Mall food court in Lynnwood. At 7:30 p.m., Kickshaw performs for about 20 minutes in the food court. At 8 p.m., "American Idol" will be shown on several televisions in the Comcast soft seating area in the Sears wing of the mall.
Kickshaw hasn't been together for about a year and a half and was spurred into reuniting after Fox Channel 13 asked to do a segment on the group, said Craig Cooke, the band's former agent. The four original members of the band will be in attendance: Jim Castaneda, Andy Marshall, Danny Figgins and Dan Schumacher.
The songs they will perform is anybody's guess. "I don't know what they will pull out of their hats," Cooke said. "They'll do whatever they feel comes back naturally to them."
The band's breakup occurred long before Lewis took on the "American Idol" challenge. Kickshaw members all headed down different musical tracks.
Marshall teaches music at Western Washington University, Castaneda is doing well with the group Woodrush, Shumacher sings with The Bobs, an a cappella group out of San Francisco and Figgins is a choir director.
Posted by acapnews at May 8, 2007 10:51 PM