« At the Bowery Mission, Songs of Faith and Redemption | Main | The Fault Line rocks! »
June 28, 2007
A cappella ensemble hits number 2 on Billboard charts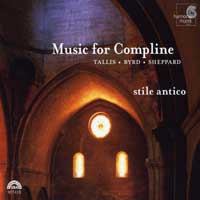 Stile Antico, a young vocal ensemble from Great Britain, has made its first appearance ever on the Billboard classical chart, arriving at no. 2 with its debut recording.
"Music for Compline," a collection of liturgical music from Tudor-era England intended for the "bedtime liturgy" at Catholic religious institutions, was released by Harmonia Mundi early this year. The recording quickly received top accolades, the Diapason d'or and Choc du Monde de la Musique, from France's two leading classical music magazines, and very favorable reviews from the Anglophone press as well. Last Friday (June 22), National Public Radio featured "Music for Compline" on All Things Considered, and within a few hours the disc reached the top of the classical bestsellers list at Amazon.com.
Founded in 2001 and little known in the U.S. until last week, Stile Antico came to notice in the British arts world in the summer of 2005 via the Young Artists' Competition at the York Early Music Festival. The group won the Audience Award and took second prize overall; among the jurors, as it happens, was Robina Young, artistic director of Harmonia Mundi USA, who wasted little time in recruiting the singers for her roster.
(The next album by Stile Antico, called "Heavenly Harmonies" and featuring English Protestant tunes by Thomas Tallis alongside Latin Catholic motets by his friend William Byrd, was recorded last month and is scheduled for release early next year.)
Listen to the NPR show here.
Posted by acapnews at June 28, 2007 8:58 PM
Comments
Post a comment