« The Blenders win again down under | Main | Esoterics choral group will perform Islamic texts »
October 13, 2007
VOENA takes Fetterly stage this evening
Vallejo Times-Herald (CA):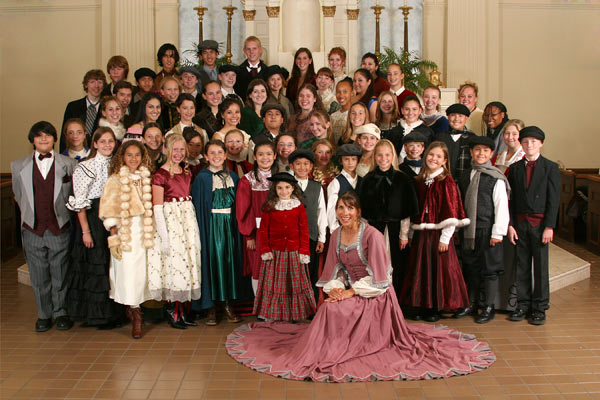 When William Shakespeare said, "All the world's a stage," an addendum may have been, "and sometimes, that stage isn't big enough."
Not that it matters to VOENA, the children's a cappella choir. With 100-plus performers, director Annabelle Marie knew she would have to filter a few members out for a comfortable concert tonight at the Fetterly Playhouse for the Arts in Vallejo. "We wanted to fit in the whole group, but we have over 100 kids," Marie said. "Because of the size of the stage, we'll only be able to accommodate 65 or 70."
That's still a significant sound in the intimate venue buried in the middle of Vallejo Plaza. The difficult part, said Marie, is notifying the less-experienced vocalists and their parents that perhaps it's best they sit this one out and witness the concert from the audience. "It's tough," Marie said. "You have kids and parents e-mailing and calling, 'What can we do to be part of this?' "
It was earlier this week when Marie had her pride and joy rehearsing at St. Dominic's Church in Benicia, an acoustically spine-tingling facility. They waltzed through several run-throughs of "Our World," which they will do with Terry Bradford in Rohnert Park on Oct. 20 at the Spreckels Performing Arts Center.
"Working with VOENA is easy," praised Bradford. "They are extremely professional and very talented. I call them the most expressive children's choir in the world. I love VOENA."
Up first, however, is today's date at the Fetterly. Being "the show" is different than doing back-up for Bradford. "When we do a concert by ourselves, I'm in charge," Marie said laughing. "And I do it with all my creative juices and do the arranging and composition."
With 35 cultures and a huge group of young vocalists, "it's not just a bunch of kids standing there singing," Marie said. "There's always been theatrical elements and a unique style of physical singing." And if a child believes he or she is above the team concept, Marie manages to do an ego check. Though, mostly, it's about education, she said. "They have to know the 'Annabelle way' is not their way," she said. "From a child's perspective, they think that if they know 50 percent of the words, that means they know it."
Marie wants singing to be as second nature as eating. "And I want them to know they can trust me," she said. "I'll tell them like it is." It's a discipline the children take into their school and, eventually work and life, Marie said. "They know what it means to be ready for something now," she said.
VOENA's participants range from 5 to 18. Most are from Benicia, though the group has members in Vallejo, Napa and throughout Solano County. Though, with so many members, some can't perform in every concert, "most of the families are very supportive," Marie said. Though working with kids could get frustrating, Marie said she keeps her cool.
"I don't swear," she said grinning. "I'm a children's choir director. I have integrity."
Posted by acapnews at October 13, 2007 12:10 AM
Comments
Post a comment