« Sing the Season | Main | Harmony in puberty »
December 8, 2007
2008 GRAMMY a cappella nominations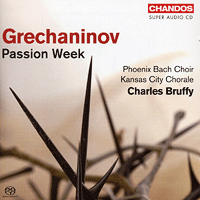 Once again a cappella is represented in the Grammys with several nominations. Congratulations to Charles Bruffy and his two choirs, The Kansas City Chorale and the Phoenix Bach Choir, whose recording of Grechaninov has been nominated for five Grammys including Best Classical Album, Best Choral Performance, Best Surround Sound Album, Best Engineered Album, Classical and 'Producer of the Year, Classical.' The Mormon Tabernacle Choir have received two Grammy nominations for their newest release, "Spirit of The Season." The album was nominated for Best Classical Crossover Album as well as Best Engineered Classical Album. The Soweto Gospel Choir was nominated for African Spirit in the Best Traditional World Music Album.
Posted by acapnews at December 8, 2007 12:34 AM
Comments
Hi!
Thanks for your kind words!
Joel Rinsema here, executive director of the Phoenix Bach Choir. Maybe someone out there can help me out. We have been doing a little research on the Grammy's. In looking through the Best Choral category over the history of the awards, we do not see that an unaccompanied choral recording has ever won. Likewise, in the the Best Classical album category. Does anyone know if an unaccompanied choral album has ever been nominated for best classical album before?
Posted by: Joel Rinsema at December 12, 2007 7:21 AM
Post a comment