« The Singing Christmas tree | Main | Another win for a cappella! »
December 21, 2007
Tonic Sol-fa annual holiday show
Sioux City Journal (IA):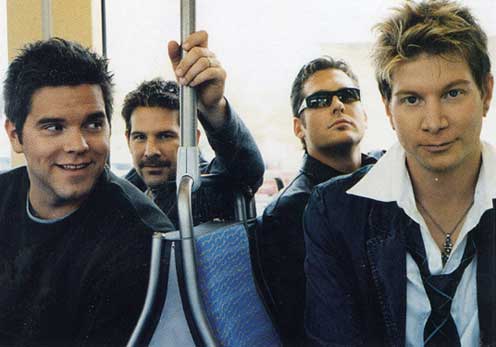 Plastic Santa? Check. Greg in tights? Check. Improvisational humor? Check.
For the men of Tonic Sol-fa, Christmas means crafting a show that will please the faithful but entice newcomers. It's a balancing act, says Jared Dove, the group's bass. "It can't be so different they don't recognize who we are." Still, says lead singer Shaun Johnson, "our goal is to make every year completely different. We're four guys singing a cappella who are from the Midwest. How different can that be?"
In the past, the four have used huge video screens, flown through the air, dropped snow from the ceiling and, oh, yeah, introduced Plastic Santa -- a cheap Christmas decoration that talks (or plays ventriloquist dummy for Greg Bannwarth). The goofy bit started years ago in Durand, Wisc., and just stuck. Fans loved seeing Plastic Santa so much he has since become the quartet's conduit for charity. In the past, miniature versions were auctioned to help local organizations. Now, says Bannwarth, it's almost a given he's along for the ride. Ditto a bit in which Bannwarth wears tights.
"I don't even remember how that got started," Bannwarth says. "We saw something and thought it would be funny if I wore tights." It was and ever since fans have come up to the singer and said, "What, no tights tonight?" "It's another thing you throw in that, hopefully, people really laugh at," he says. "It's the same with Plastic Santa. They'll ask you about it, whether they like it or not."
For this year's show (which has been on the road since Thanksgiving and comes to the Orpheum Theatre Saturday), they'll offer plenty of songs from their latest holiday CD, "On Top of the World." A companion to their PBS special, it features two original songs and a whole bunch of Tonic Sol-fa covers. "So many people said they wanted to hear the songs live," says Johnson. "So we decided to build the show around it."
That special -- which first aired last year -- has become such a hit it will be broadcast for the next three years. Additionally, it'll be seen in international markets, introducing Tonic Sol-fa to yet another audience.
The quartet realized its impact when fans flooded their Website, ordering CDs, last year. "It was insane," Johnson says. "They told us we'd get an average of 12 phone calls after each airing. We got so many all of us had to go in and fill orders for a week. We had fulltime people working almost two months filling orders and answering calls." "We still have orders coming from places we've never been," Dove says. "And that's just from our site. We don't know who's ordering from Amazon or iTunes."
As a result, those new fans are flocking to the group's stage shows. "They probably didn't come out to catch the show initially," Dove says. "After they see the TV show," says Mark McGowan, the fourth member of the team, "they want to see us live."
That impact has pushed Tonic Sol-fa to another level. Now, says Bannwarth, "we're meeting with movie production houses and TV production houses trying to figure a way to get our music wherever we can. We've been able to use the PBS special and its success to get in the door with other people." That results in tie-ins (with Wells' Blue Bunny and Tastefully Simple among them), corporate appearances and sponsorships. Major League Baseball is a likely partner; satellite radio is, too.
Before they even began the 20-city tour for this year's holiday show, the Tonic Sol-fa four recorded two tracks for a new album. "We're going to take it a little piece at a time," Dove says. "We want to make sure it's done correctly."
That's one of the benefits of being an independent music act. The four (ranging in age from 31 to 36) are able to set their own ground rules and goals. "What we do is just so flexible," McGowan says. "It balances so well." "It comes from pushing ourselves," Johnson adds. "If we were still doing 300 shows a year, we would have hung it up a long time ago."
Thanks to the special's exposure, they can work less, but cover more territory. Already, they've got the division of work down to a science. Dove handles the Website and the group's on-line presence; McGowan is the financial guru; Bannwarth is the production expert. "And I just sit around," Johnson says with a laugh.
"No," Dove corrects. "He's very good at looking ahead and setting goals." "We haven't had this 'American Idol' overnight success," Bannwarth says. "We wouldn't know what that would be like. But we have had goals and every time we achieve one, we're so excited. At the same time, we're looking at the next thing we can push. If we ever get to the point where we don't grow, we'll quit."
Now, though, they're too busy with the holiday show. After a few days off during Christmas, they go back on the road and start all over again. "It has always been fun," Bannwarth says. "As much as we like touring the rest of the year, it's never quite like the Christmas show. There, we get huge crowds, we get to step it up a few notches in terms of cost and, hopefully, we get a show that's tight enough we can really rock it."
Posted by acapnews at December 21, 2007 12:06 AM
Comments
Post a comment