« The Human Instrument | Main | Reviewer tough on the Knudsens »
January 25, 2008
Ladysmith Black Mambazo's Shabalala To Retire, Names Successor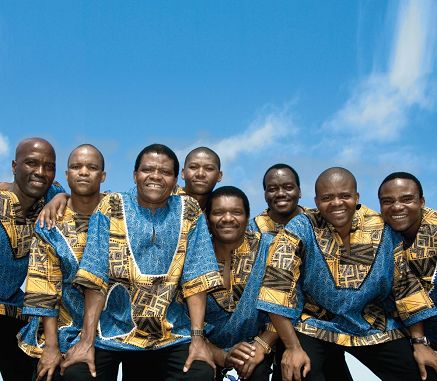 Ladysmith Black Mambazo leader Joseph Shabalala issued a statement yesterday indicating that after over 45 years with the group he's nearing retirement—but that the group will continue under the leadership of his son, Thamsanqa. "The mission and message will continue," wrote Shabalala. The full text appears below.
FROM JOSEPH SHABALALA:
In the early 1960's I had a dream of a type of singing group that I wanted to create. Not just a dream, in the wishful way, but an actual dream while I was asleep. This beautiful dream led to the creation of my group, Ladysmith Black Mambazo. Now, some forty five plus years later this original dream has led to so many more dreams. We have been awarded Grammy Awards, represented our homeland of South Africa at many prestigious events, including accompanying Nelson Mandela to Norway to receive the Nobel Peace Prize, traveled the world so many times and most importantly, spread a message of Peace, Love and Harmony to millions of people.
This was never a dream a black South African could ever imagine.
As the years have passed, and the 20th century became the 21st, I started to get asked what will happen to Ladysmith Black Mambazo once I retired, if I ever retired. Well, I have spent much time thinking about this. Ladysmith Black Mambazo was never about one person. Ladysmith Black Mambazo is a mission. A mission to spread our message and to keep our culture alive and known. South Africa is a most wonderful place, filled with beautiful people. By touring, as we have, almost seven months every year for over twenty years, we have wanted to keep South Africa alive in people's hearts.
Ladysmith Black Mambazo is a family. Within the group I have had brothers and cousins singing together. Over the past fifteen years, because of retirements and death, I have been joined by four of my sons. They are the future of Ladysmith Black Mambazo, our next generation. The mission and message will continue. When the time comes for me to finish touring and to stay home they will carry on my dream. As well, my son Thamsanqa (Tommy) will become the new leader of the group. Thus, the dream I had over forty five years ago will continue well into the 21st century. Ladysmith Black Mambazo must continue as the message of Peace, Love and Harmony never must be silenced. We never will be silenced and we hope our fans and friends around the world will keep wanting to hear this message.
Ngiyabonga! Thank you! Joseph Shabalala
I wonder if any a cappella singer has ever traveled as much, sung in front of so many interesting people, and sold as many CDs as Joseph Shabalala. A true legend of a cappella his contribution to the genre should never be overlooked and his influence will be felt for many years.
Posted by acapnews at January 25, 2008 12:39 AM
Comments
I am a strong FAN of the MAMBAZOS and their songs will keep up enriching my soul.I am a chorister who loves accapela so much and i wish to belong to a group like the MAMBAZOS.Thanks father SHABALALA for your music.I am your son from CAMERRON.Ngiyabonga

Posted by: metuge stanley at January 29, 2009 2:14 AM
I love the type of music especially Ladysmith the group. God bless the group, I wish they can have more DVDs, I cannot get them.
Posted by: Nkosana at October 30, 2009 6:13 AM
Post a comment