« Hazing prompts a cappella group's suspension | Main | Swingle Singers give Bee Gees, Bach the a cappella treatment »
April 10, 2008
5one has familiar voice
Belleville News Democrat (IL):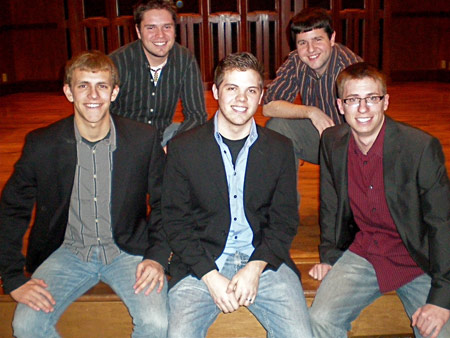 O'Fallon resident David Kempton performs with a male a cappella singing group, but it's a far cry from barbershop quartet. The group's five members are students at Millikin University in Decatur. They call themselves "5one," (five wuhn) referring to a common cadence at the end of choral pieces.
The group sings rock and pop songs, ranging from "Come Together" by the Beatles to "Trashing the Camp" by Phil Collins "We do a lot of Rockapella," said Kempton, 20, speaking of the group known for Folgers coffee commercials and the TV game-show theme song "Where in the World is Carmen Sandiego? "Our group is very similar to theirs. We have four main singers and a person who specializes in vocal percussion (also known as "beatboxing").
On May 3, 5one will head to San Rafael, Calif., to compete in the 24th annual Harmony Sweepstakes, a national a cappella competition. Hundreds of groups auditioned for eight regional competitions earlier this year. 5one qualified to perform March 15 in Chicago and won by singing "Thank You" by Boyz II Men, "House of the Rising Sun" by the Animals and "Paperback Writer" by the Beatles.
The group gets two extra minutes to perform at the national level, so it will add an arrangement of the "Oscar Meyer Wiener Song. "We don't do much comedy," said Kempton, a tenor. "But we're trying to provide some variety."
Kempton is the son of Paul and Marcia Kempton of O'Fallon. He graduated from O'Fallon Township High School in 2005. Kempton sang with madrigal, jazz, bass, chamber and show choirs at O'Fallon. He also performed in six musicals, playing the lead roles of "Tony" in "West Side Story" and "Ren" in "Footloose" his junior and senior years.
"He has a performer's presence that I've never seen on a local level," said Beth Dippel, head of the music department. "To the average person, it's that 'star quality.' When you see him perform on stage, you are completely drawn to him and captivated by what he's doing."
Kempton's love of music goes back to childhood. He took piano lessons and learned to play drums. His father remembers him volunteering to sing karaoke at a picnic in New York when he was 6 or 7 years old.
"(David) got up on stage and asked them to play an old Beatles song, but they didn't have the music," said Paul Kempton, an Air Force retiree who serves as civilian deputy fire chief at Scott Air Force Base. "So he just sang it a cappella, and the whole picnic crowd stood up and clapped."
Today, Kempton is majoring in commercial music at Millikin. His first career choice is performing; his second is working in a recording studio. Kempton and four other music students formed 5one two years ago. They perform about 15 times a semester at dinner parties, weddings and community events. The part-time job allows them to earn extra money by doing something they enjoy and take a break from the stresses of college life.
One advantage with a cappella is that group members don't have to lug around heavy instruments and equipment, other than microphones and amplifiers. It's also a challenge. "You can't be just a 'decent' singer with a cappella," Kempton said. "You have to have good pitch and intonation and blend."
Posted by acapnews at April 10, 2008 9:31 PM
Comments
David, So proud to see that you're doing what you love so much and that you're so good at.
Take care and keep on singing!
Becky Fontenot
Posted by: Becky Fontenot at July 28, 2008 8:01 PM
Post a comment