« SoCal Vocals wins collegiate competition | Main | Choir cartoon »
April 22, 2008
Harmony Sweeps signs TV deal with Sony Pictures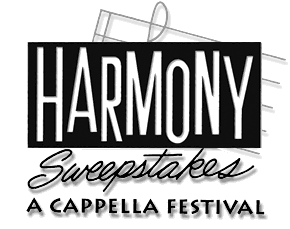 It's been a great season for the Harmony Sweepstakes this year with all the regionals reporting record turnout and top notch competing groups. After the Los Angeles show this past weekend we now have all the regional winners for this year's National Finals and what a stellar line up it is.
And this year we have an extra special announcement to make. I have just signed a deal with Sony Pictures Television who would like to create a reality TV series based around the Harmony Sweepstakes. As of right now they have optioned the TV rights for a certain period of time and are in the process of creating a team to develop the concept. I am also pleased to report they have hired me as a consultant for the series and I will of course still be the national producer of the Harmony Sweeps themselves.
Sony Pictures Television are a major supplier of TV programming and own such popular shows as Seinfeld, Wheel of Fortune, Jeopardy, Days of Our Lives and many others.
While the exact content of the TV series is still being developed I can assure you that the Sweeps will continue to keep its homegrown charm and retain the same appeal that has proved to be such a success over the past two decades. The TV series will not be an American Idol type of show but rather behind the scenes, following the groups, going to rehearsals, "road to the Finals" sort of concept.
This is a great opportunity for a cappella groups and a wonderful way to get national exposure for vocal harmony music. If the series does indeed come to fruition it would be a fantastic promotional vehicle and would also increase exponentially the possibilities of all kinds of other media exposure as well. As a veteran promoter of a cappella I relish the opportunity to make the most out of getting a great deal of attention to this wonderful musical art form we all love so much.
The regional winners who will competing the in National Finals are:-
Syncopation - Boston
5one - Chicago
Where's Gesualdo - San Francisco
The Baudboys - Pacific Northwest
Legacy - Rocky Mountain
Vocaldente - Mid Atlantic
Red No5 - New York
Sound Stage – Los Angeles
Hosted by 2007 National Champions Moira Smiley and VOCO

HARMONY SWEEPSTAKES A CAPPELLA FESTIVAL NATIONAL FINALS
Saturday May 3, 8pm
Marin Veteran's Auditorium
San Rafael, California
Posted by acapnews at April 22, 2008 11:49 PM
Comments
Magnificent achievement and very encouraging for publicizing a cappella. Congratulations!
Darrin Gowan
Indiana Ambassador (fmr.)
Contemporary A Cappella Society
Posted by: Darrin Gowan at April 23, 2008 6:50 AM
Post a comment