« Music from Baudboys, Microsoft's a cappella group | Main | A cappella is piping up everywhere »
May 5, 2008
Germany's Vocaldente wins the Harmony Sweeps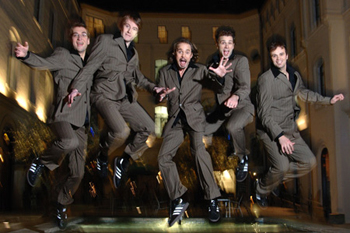 It was a truly glorious evening of unaccompanied vocal harmony singing at the National Finals of the Harmony Sweepstakes this past Saturday evening. Each and every group were in top form and who, perhaps because of the added excitement of the competition, sang and performed surely one of their best sets ever. Plus our knowledgeable, appreciative and supportive audience certainly added to the electricity that ran throughout the auditorium that night.
The 2008 National Champs are Vocaldente, winners of the Mid-Atlantic regional, who hail from Hanover, Germany and are now the second international winners of the event (2003 winners The Idea of North are from Australia). And what great champs Vocaldente are as they epitomize all the qualities we so enjoy in our winners. They are talented singers, have a great arranger in Tobias Kiel and are some of the most natural and entertaining performers (of any type) I have seen in years. They are also very, very funny! The Sweeps tradition of discovering a relatively unknown, immensely talented vocal harmony group continues and one who we will help make the most of this opportunity to build a large fan base and create more performances opportunities in the US.
The various camera crews and producers from Intuitive Entertainment, who are creating the "sizzle reel" for Sony, were a delight to work with and they were most pleased with the footage they shot (over 15 hours worth throughout the day).
Congratulations to all the performing groups who to a person were fun to work with and all of whom had the spirit that helps make the Harmony Sweeps so special. Next year is the big 25th anniversary season. We hope to see you all there!!
National Champions - Vocaldente
2nd - Where's Gesualdo?
3rd - Legacy
Audience Favorite - Vocaldente
Best original arrangement - "High and Dry" Lee Abe, Syncopation
Best original song - "Ain't had None of That Yet" - Stephen Saxon, Where's Gesualdo?
Posted by acapnews at May 5, 2008 10:59 PM
Comments
Post a comment