« Go Fish Crusades For 'Christmas With A Capital C' | Main | 'Brothers to Brutha': a dramatic record of singers on the rise »
November 19, 2008
Review - Stile Antico at the Old Royal Naval College
The Times (UK):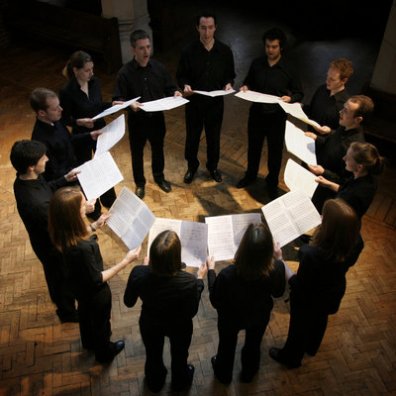 With its Wren architecture and Tallis connections, Greenwich already has links to two golden-oldie eras - Baroque and Tudor. Its three-day Early Music Festival brought the antique tinkle of period instrument makers and performers to the borough. Take away the traffic, the passing Jumbos, the glass towers of Canary Wharf and the giant blob of the 02 arena up the road and you could imagine yourself back in the days of Good Queen Bess.
I caught Stile Antico's concert, exploring late-Renaissance choral music inspired by the sensuous texts of the biblical Song of Songs. In less than five years this chamber choir has made a big impact on the early-music scene, and even beyond - it is embarking on a Far Eastern tour with none other than Sting, that well-known exponent of Jacobean lute-songs.
Its success is not hard to understand. Very much a product of Oxbridge's college choirs, its young voices produce impeccably tuned harmonies and immaculately clear textures. Even in the thickets of ten-part Renaissance polyphony, each line is beautifully discernible.
The choir also operates collegiately, minus a conductor or dominant individual. Perhaps this idealistic model will be hard to sustain over the long term in the hurly-burly of professional musicmaking, but it certainly adds to Stile Antico's appeal. Without the looming barrier of a gesticulating maestro, the singers - grouped in a semicircle - can engage directly with their public.
But Stile Antico's strengths could also be limitations. Its repertoire is very narrowly focused. Hearing a dozen mostly slow-paced 16th-century motets one after another, separated only by plainsong, one longed for a change of era, mood or medium. And the hard-edged voices, though wonderful at biting into dissonances and false relations, also weary the ear after a while. I'm sure the singers have warmth and personality, but a slightly clinical conformity is what comes across. The lack of programme-notes, texts and translations doesn't help. Most music lovers know of Palestrina and Lassus. But Lhéritier, Vivanco, Ceballos? Give us a clue.
Posted by acapnews at November 19, 2008 12:00 AM
Comments
Post a comment