« Brooklyn a cappella group stays in harmony | Main | TV reporter quitting to pursue career in a cappella »
January 6, 2009
Harmony Sweepstakes seeks vocal harmony groups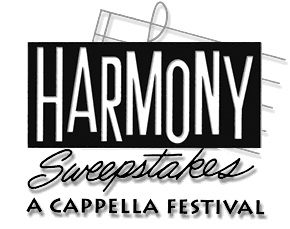 The New Year brings us to a new season of the Harmony Sweepstakes A Cappella Festival and a very special season it is as we celebrate our 25th anniversary. We are seeking vocal groups who would like to participate in what we hope to be our biggest and best season yet and with who knows what kind of special surprises!!
Groups of up to 8 members of any style are welcome to apply. Entries are already coming in and we recommend submitting your material soon. A photo, a sample of your music and a brief description of the group is all we initially require. Please contact the director of the Regional where you would like to perform.
This will be a great year to join the fun!
Pacific NW - March 7
New York - March 7
SF Bay Area - March 14
Boston - March 21
Chicago - March 21
Los Angeles - April 4
Mid-Atlantic - April 4
Denver - March 21
National Finals – May 16
Marin Center, San Rafael, California
Harmony Sweepstakes National A Cappella Festival
www.harmony-sweepstakes.com
Tickets for most events are now on sale. Order now to ensure great seats!
Sponsored by:-
Primarily A Cappella
www.SINGERS.com
Discmakers
www.discmakers.com
Posted by acapnews at January 6, 2009 12:01 AM
Comments
Post a comment