« Fear of Flight | Main | Great line up at Barbershop Harmony Society Convention »
May 18, 2009
Harmony Sweepstakes National Finals results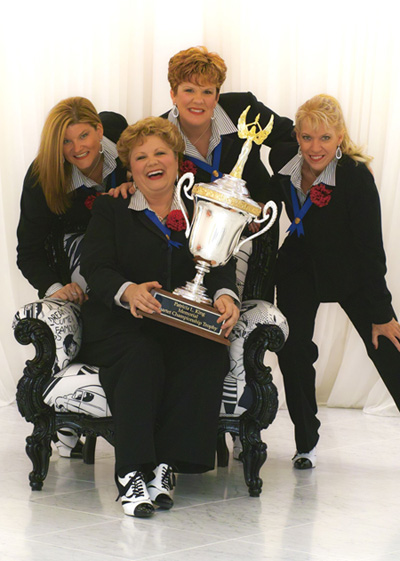 The night belonged to the ladies at this year's Harmony Sweepstakes National Finals when, for the first time in its 25 year history, both Audience Favorite winners and National Grand Champions were Sweet Adelines quartets. Taking top honors were MAXX Factor, winners of the Mid-Atlantic Regional, who delighted the audience with their fabulously in-tune & perfectly balanced chords and charming stage presence. Bay Area favorites and most certainly rising stars are the wonderful Love Notes who won Audience favorite along with overall second place. Rezonate from the Pacific NorthWest took third along with Best Original Arrangement for "Book of Love".
The judges were a little stumped when wanting to award Best Original Song to the Mouth Beats and decided they would change the award to Most Innovative Composition to better reflect the creative nature of their original music.
Enthusiastic and knowledgeable fans of vocal harmony once again filled the venue to capacity and there surely is no better audience for a group to perform in front of. The camaraderie between groups was most apparent and many new friendships were formed.
It has been a very successful and rewarding 25 years and we look forward to continuing the tradition of providing a supportive and important showcase for a cappella groups as we all seek to celebrate and spread the joys of unaccompanied vocal harmony music.
Posted by acapnews at May 18, 2009 10:27 PM
Comments
Post a comment