« SoVoSo: The East Bay's Winning A Cappella Group | Main | The Real Group releases The Real Album »
September 18, 2009
Gelcaps has gig with children's movie
MLive.com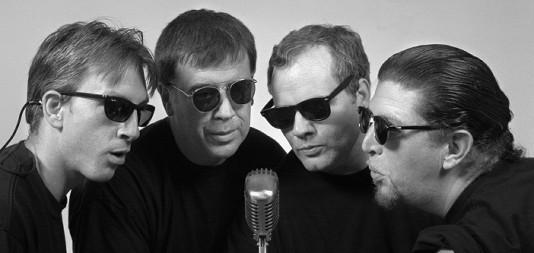 The word is still out on how The GelCaps did at an audition Monday for a new TV talent competition to air on NBC, but the Jackson vocal quartet did get some casting news over the weekend. Group members will be lending their voices to a children's live-action movie titled "The Oogieloves in the Big Balloon Adventure."
The $10 million movie is the brainchild of Kenn Viselman, the marketing expert behind Teletubbies and Thomas the Tank Engine. It is aimed at preschoolers and features interactive sequences in which the audience is encouraged to sing and dance in the aisles. It stars Cloris Leachman, Chazz Palminteri, Christopher Lloyd and Jaime Pressly.
From what members of The GelCaps have seen of the script, they will play a bunch of doo-wop-singing balloons wishing a happy birthday to a character. They had a 45-minute callback audition last week, during which they were instructed to "sing it like helium balloons," member Timm Richardson said, "which was interesting, but we did it."
The movie is being made in Michigan to take advantage of the state's tax credits for film productions. Richardson said he suspects the program's higher reimbursement rate for Michigan residents worked in favor of The GelCaps, who were up against a group from Los Angeles.
Richardson found out about the auditions via a Facebook group dedicated to Michigan's growing movie industry. All four members of the group — Richardson, Andrew Gorney, Mike Reed and Steve Tucker — will become members of the Screen Actors Guild, something Richardson worked toward for 17 years while living in Los Angeles without any success. "Now I'm sitting back here in Jackson, Michigan, and, 'Here's your card,'" he said.
As for the auditions for NBC's "The Sing-Off," Richardson said things looked hopeful, but competition was stiff. Auditions took place in four cities. The GelCaps were among about 40 a cappella groups in Chicago. "I felt very old," Richardson, 57, said. "Most of them were college age." The GelCaps were one of about five groups invited into a room after singing to talk with a producer about their personal histories, he said.
Posted by acapnews at September 18, 2009 12:00 AM
Comments
Post a comment