« Tufts singers on NBC ... maybe | Main | The Singing Robot »
October 8, 2009
The Manhattan Transfer -- 40 years and still singing
Reuters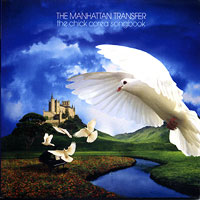 Forty years ago, Tim Hauser put together a sophisticated little singing group he hoped would make a few hits. The Manhattan Transfer went on to top music charts in Europe, dominate the U.S. jazz vocal scene for four decades, win Grammys in pop and jazz categories and even equal Michael Jackson's "Thriller" album for Grammy nominations.
Hauser is still stunned by the success he and fellow singers, Alan Paul, Janis Siegel and Cheryl Bentyne have achieved around the world. "I wanted to make a couple of hit records and work in the United States," Hauser told Reuters in a recent interview.
Asked whether he imagined his group would still be making music 40 years later, he said: "No, I never thought that way. "When you're young, you're thinking about what's right in front of you -- sex and drugs and rock 'n roll! You don't think of career and family." But that is how Bentyne describes the group, as family. "My daughter and Janis' son came on tour with us as babies," she recalled. "And right now she is in L.A. with Tim's family."
Like many families, each member of Manhattan Transfer has a voice -- and a vote -- in what songs they will sing and record, where they will tour, or who will handle lyrics or arrangements for each song. But like many musical acts, they often have differences of opinion.
"WE CAN'T AGREE ON ANYTHING!"
"Creative differences? We thrive on creative differences," Hauser laughed. "We can't agree on anything. It takes us forever to agree. (But) There are certain guidelines that have to transcend personal feelings. "I think underneath all of (that) we all genuinely like each other. And we all understand that what we do collectively is greater than what we do individually."
Right now, Hauser operates as de-facto manager of the vocal quartet, which just released its first new album in five years -- "The Chick Corea Songbook." Read more.
Posted by acapnews at October 8, 2009 12:00 AM
Comments
Post a comment