« Alone Again Naturally | Main | Shlomo and the Vocal Orchestra »
January 7, 2010
Harmony Sweepstakes wants you to sing!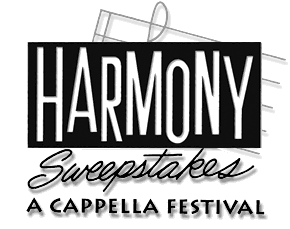 One thing the Sing Off demonstrated is something the Harmony Sweepstakes audiences and performers have known for decades – a cappella singing competitions are lots of fun! Well here we go again for now our 26th year and times could hardly be better for a cappella with a rising tide of interest and main stream recognition. We have begun the new year by receiving a flurry of calls and emails from media, groups and various entertainment business types and many folks are excited that the Sweeps will once again be presenting a showcase and opportunity for vocal harmony groups.
As well as the exposure and experience the Harmony Sweeps has always been able to provide there is the added bonus that the Sweeps web site has become a clearing house for people looking to book an a cappella group. A regional Google search for a cappella groups brings up the relevant Harmony Sweeps page where we have scores of groups listed with photos, blurbs and links to their web sites. Groups have been reporting numerous contacts including media appearances and the always welcome corporate gigs.
There's a lot of fun and opportunity to be had for those who like to sing so we encourage groups to submit an application. Do remember that groups only need a maximum of 10 minutes of music so if you currently don't have a group there's time to get a handful of singing buddies together and create a short fun set and then come to the show and sing for us all. Who knows what might happen..
Groups of up to 8 members of any style are welcome to apply. Entries are already coming in and we recommend submitting your material soon. Please submit an online application or contact the director of the Regional where you would like to perform.
Regional champions win airfare and hotel accommodations to compete in the National Finals held in the San Francisco Bay Area.
Pacific NW - March 13
New York - March 20
SF Bay Area - March 13
Boston – April 18
Chicago - March 27
Los Angeles - April 10
Mid-Atlantic - April 10
Denver - March 13
National Finals – May 15
Marin Center, San Rafael, California
For more info visit the Harmony Sweepstakes National A Cappella Festival web site:-
www.harmony-sweepstakes.com
Tickets for most events are now on sale. Order now to ensure great seats!
Sponsored by:-
Primarily A Cappella
Discmakers
Posted by acapnews at January 7, 2010 11:17 PM
Comments
Post a comment