« The Sixteen disappoints | Main | German Unemployed Get A Boost Through Singing »
April 8, 2010
Home Free mixes humor and five-part harmony
Courier-Life (WI):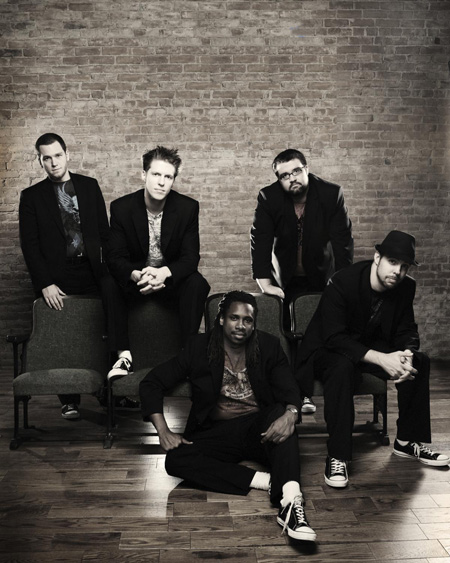 Home Free, an up-and-coming a capella group that mixes laughter and silliness with stellar vocals, will hit the Marie W. Heider stage on Thursday, April 15. "We don't stand just stand around and sing doo-wop songs," said Matt Atwood, one of the five members of the group (the others are Rob Lundquist, Tim Foust and brothers Chris and Adam Rupp).
Home Free — which performs an expansive mix ranging from pop songs, to classical music to TV theme songs to techno — is based in the Twin Cities area. The group travels with its own sound system and sound man and their show features a lot of back and forth with the audience between and during songs.
"We're very interactive," Atwood said. "There's a lot of humor. We pass out ballots and pencils, ask people to identify TV show theme songs and award them prizes. Another thing that audiences really like is our 'Songs that Didn't Make the Cut' portion of the show. That's where we do some really awful songs that everyone remembers."
Last fall, they finished a 45-city national tour. "The guy who booked us was a little hesitant because he'd booked other a capella bands that hadn't done all that well," Atwood recalled. "But it turned out to be incredibly successful. Since then, the bookings have been flying off the shelf."
The group took a break over the winter to record a Christmas album that was just finished last week. "I know it sounds strange as far as the timing, but we are working on developing a Christmas show for next year. Right now we'll just sell the album at concerts and to family and hard-core fans, but we expect to sell more next fall," Atwood said.
Home Free got its start at a church talent show about 10 years ago. "Afterwards, people kept coming up to us and saying 'We want to book you' and we would think 'But we only know one song!'" Atwood recalled. Since then, Home Free has greatly expanded its repertoire. Adam Rupp provides the punch with his "explosive" vocal percussion technique. He, his brother Chris, and Atwood have been singing together since they were kids.
Home Free is headed back out on the road this week — the West Salem appearance will be one of the first of their spring tour. Atwood said that for an a capella group that creates all the sounds for its concerts with their voices, personal health is absolutely critical. "People don't realize that, even if you're not singing lead, you're still singing background. You have to be very strong vocally and you can never take a break. "When we're on tour there's no smoking or drinking. We have to watch our health because there's no way we could do this if we weren't all strong."
At this point all the members of the group have flexible jobs that allow them to go out on the road for months at a time, but Home Free's rising popularity has Atwood hoping those part-time jobs won't be necessary for too much longer. "We're very close to making this a full-time gig," he said.
Home Free are Chicago Harmony Sweepstakes Champs and will be performing at the National Finals.
Posted by acapnews at April 8, 2010 10:23 PM
Comments
Really great! I enjoyed every minute of the concert.
Posted by: Carol Wells at April 9, 2010 6:01 AM
Post a comment