« The Magnets prove to be a draw at The Fringe | Main | Estonia hosts virtual song festival »
August 19, 2010
The Creole Choir of Cuba: the a cappella aid agency
The Guardian (UK):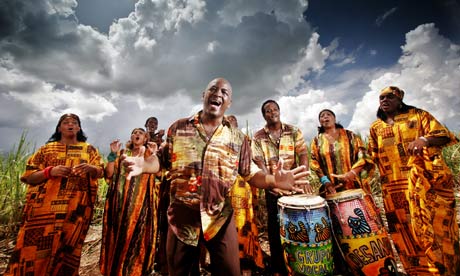 On the afternoon of the show, the 10 members of the choir mill around the hall, chatting between rehearsals. In Cuba, they are known as Grupo Vocal Desandann, meaning Descendants, in reference to their Haitian roots. Much of their repertoire is drawn from the songs their grandparents used to sing them, and newer ones they've picked up on their regular visits to Haiti. To an outsider's ear it sometimes sounds distinctly African, at others Latin American; occasionally it has shades of gospel or European choral music. They've even been known to cover Nat King Cole's Unforgettable. On the strength of their performances at the Edinburgh festival last year, they got five-star reviews, a recording contract with Peter Gabriel's Real World label, a slot at Womad and a booking on Later … With Jools Holland. It is not hard to see why.
The choir began in 1994 as an offshoot of the 28-strong state choir of Camagüey, a large but sparsely populated low-lying province known, says Chavez, for its cheese. Thanks to the Cuban government's strategic investment in the arts, singing is their full-time job, and they rehearse for six hours a day. They regularly tour the island playing free concerts and festivals for locals as well as state functions for visiting dignitaries.
The choir tend to visit Haiti once or twice a year, and were there playing some shows just weeks before the quake. In the aftermath, they were quickly dispatched by the government as part of Cuba's official relief effort.
The singers slept in the streets with Cuban doctors because there were no spare buildings in which to house them. During the day, they visited refugee camps and held music workshops for children whose parents were dead or missing. "I felt that they were touched because there was someone there who understood their culture and was trying to help," says Chavez. "We sang positive songs – not love songs, but songs giving love: 'Life will continue and you will be OK.' Not songs of mourning."
Their one-hour performance at Wilton's, a cappella but for the occasional conga rhythm, is by turns romantic, comic, turbulent and celebratory. There's a slick, well-oiled quality to the performance as, after each song, they milk the audience for every drop of applause. Finally, they leave the stage via the crowd, still singing and shaking hands as they pass down the aisle. After the rubble of Port-au-Prince, a show like this must be as easy as breathing.
Posted by acapnews at August 19, 2010 10:26 PM
Comments
Post a comment