« The Magnets – review | Main | President and First Lady join a cappella group »
December 17, 2010
Let's get festive
Christmas has always been one of the busiest time of the year for me and often starts in August as I start receiving Christmas new release catalogs and plan my ads etc. So by the time the holidays came around I was usually pretty darn tired. But now I have young children the joy is back and I really enjoy Christmastime.
There's hardly a better way to feel festive than when listening to a carol sung a cappella so from now till Christmas I'll be featuring new and classic holiday video clips. Recommendations anybody? Let's start with Tonic Sol-fa.
I do have a bit of a fascination with Singing Christmas Trees and have posted some favorites over the past few of years. Anybody have a great photo of a singing tree?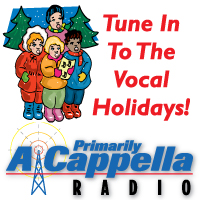 We are also streaming our annual 24/7 a cappella Christmas music radio. Tune in here.
Posted by acapnews at December 17, 2010 12:00 AM
Comments
Post a comment