« Eric Whitacre on why British choirs are best | Main | Bicycle Choir combines passion for singing and cycling »
January 12, 2011
2011 Harmony SWeepstakes season begins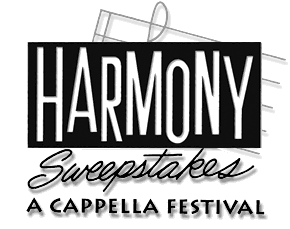 Twenty seven years and still going strong!
It's time again for a new season of the Harmony Sweepstakes A Cappella Festival and we are as excited as always. With the success of NBC's prime-time show The Sing-Off there is a noticeable wave of increased interest in a cappella music. We are proud to have presented so many entertaining and talented groups over the decades and are looking again for groups who would like to participate.
A cappella groups of all genres, ages and styles are welcome including high school and collegiate groups. Originality is always encouraged. As long as you have 10 minutes of a cappella music then we would love to hear from you.
2011 Schedule:-
Boston – April 17
Chicago - March 26
Los Angeles – April 9
Mid-Atlantic (DC) – April 2
New York – March 19
Pacific NW (Olympia) - March 12
Rocky Mountain (Denver) - March 20
San Francisco – March 19

National Finals May 14th
Both seasons of the Sing-Off included Harmony Sweepstakes national champions plus the show's casting agent was a judge at the National Finals. So come join the fun, you never know where it may take you..
Entries are already coming in and we recommend submitting your material soon. Please submit an online application or contact the director of the Regional where you would like to perform.
Regional champions win airfare and hotel accommodations to compete in the National Finals held in the San Francisco Bay Area.
For more info visit the Harmony Sweepstakes National A Cappella Festival web site:-
www.harmony-sweepstakes.com
Tickets for most events are now on sale. Order now to ensure great seats!
Sponsored by:-
Primarily A Cappella
Discmakers
Posted by acapnews at January 12, 2011 12:00 AM
Comments
Post a comment