« Female choir has coveted number 1 Christmas spot | Main | 2012 London A Cappella Festival »
January 4, 2012
2012 Harmony Sweepstakes season begins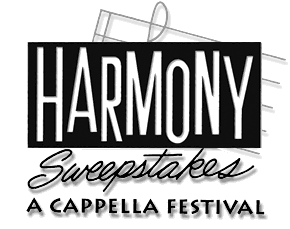 It's that time again and the Harmony Sweepstakes A Cappella Festival is once again seeking groups who would like to participate in one of our regional events. A cappella groups of all genres, ages and styles are welcome to apply and as long as you have 10 minutes of quality a cappella music then we would love to hear from you. Regional champions win airfare and hotel accommodations to compete in the National Finals held in the San Francisco Bay Area.
2012 Schedule:-
Pacific NW (Olympia) - March 10
San Francisco – March 10
New York – March 10
Rocky Mountain (Denver) - TBA
Chicago - March 31
Mid-Atlantic (DC) – February 25
Los Angeles – March 3
Boston – April 15

National Finals May 12th
All three seasons of the Sing-Off included a Harmony Sweepstakes national champion so who knows where participating might take you.
Entries are already coming in and we recommend submitting your material soon. Please submit an online application or contact the director of the Regional where you would like to perform.
For more info visit the Harmony Sweepstakes National A Cappella Festival web site:-
www.harmony-sweepstakes.com
Tickets for most events are now on sale. Order now to ensure great seats!
Sponsored by:-
Primarily A Cappella
Discmakers
Posted by acapnews at January 4, 2012 12:00 AM