« Oldest a cappella singer ever dies | Main | The Esoterics Explore the Choral High Seas »
March 7, 2014
2014 Harmony Sweepstakes A Capppela Festival begins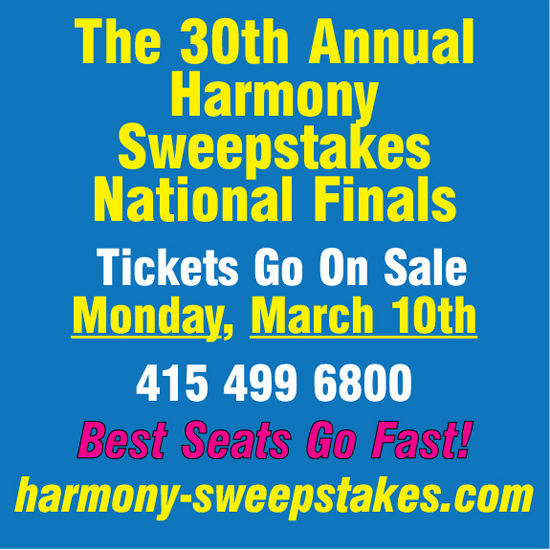 It's is the 30 anniversary of the Harmony Sweepstakes and we have plenty of reasons to celebrate!
We have had a record amount of group entries this year and the talent is better than ever. We have singing lawyers, priests, scientists and plenty of professional performers. We have groups from Camaroon, Georgia Republic, Namibia and from across the US.
There are groups of every musical genre imaginable and the full breadth of vocal harmony is amply displayed.
The first two shows of the season, San Francisco and Mid Atlantic, are already sold out and our other events are expected to have full houses as well.
Tickets for the 30th annual National Finals go on sale this coming Monday March 10th. Held at the iconic Marin Center (designed by Frank Lloyd Wright) in San Rafael, California - a 20 minute drive over the Golden Gate Bridge from San Francisco. If you want to hear the "best of the best" then how about planning a nice vacation here in beautiful Northern California? Hear top notch a cappella and see giant redwoods, San Francisco and the Wine Country all in the same day!
2014 Schedule:-
San Francisco - March 8
Mid-Atlantic - March 8
Pacific NW - March 15
New York - March 22
Chicago - March 29
Los Angeles - April 5
Boston - April 13
National Finals - May 17
More info on the web site:-
http://www.harmony-sweepstakes.com

Posted by acapnews at March 7, 2014 12:00 AM