July 31, 2006
July 28, 2006
July 27, 2006
Go Fish + Dad Ideas on Fun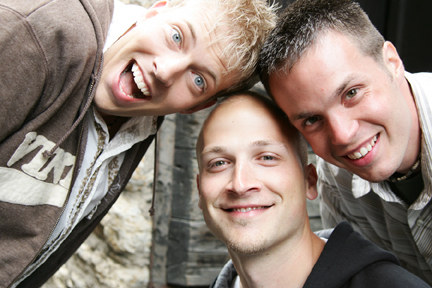 Christianity Today (US):
What do farm animal noises, doo-wop and three grown men have in common? Well, if you guessed the a cappella group Go Fish, you'd be right. With a fresh blend of classic kids' music and fun new songs, the "happy music" of Go Fish is a unique and toe-tapping experience.
Go Fish was conceived ten years ago and now includes members Jamie Statema, Jason Folkmann and Andy Selness. What began as a passion for adult Christian music has shifted in the past few years. "We always noticed that we had lots of kids who liked our music," says founding member Jamie Statema. Thinking that it might be fun to try something new, Go Fish produced their first kids' album, Splash, three years ago. They wanted to create kids' music "that wouldn't drive their parents absolutely bonkers." Splash was immediately met with rave reviews from kids and parents alike. Two months later, the group performed six sold-out kids' concerts in one weekend. It was then that Go Fish realized the great need for quality children's music.
"It's such a major battle for kids—for what you're going to instill in them. There are so many options that are being taught nowadays and so many things that are being taken out of our culture that we've just always kind of relied on for stability," says Go Fish bass Andy Selness. And parents are trying to seek out good influences for their children.
Watching the reactions of parents, children and even grandparents at these first kids' concerts affirmed to Go Fish where they needed to focus their music and energy. "It was evident that this was where God wanted us," explains Jamie. "Whether you think it's cool or not, Go Fish is a group that makes music for families."
This new musical direction has taken a very special place in the hearts of Jamie and Andy, both fathers of preschoolers. Andy describes his eldest daughter, Ella, 2, as one of the group's biggest fans—loving to watch their DVDs over and over again and often wearing her Go Fish T-shirts for days. "Seeing that in my daughter's life is a huge thrill," shares Andy as he described the "perfect fit" Go Fish has with family and children's music.
So where does third member Jason Folkmann fit into this mix? Even though not a dad himself, Jason explains that growing up in a rural community in Iowa with three younger brothers has given him lots of experience with kids. He says he loves engaging kids and encouraging them through the group's music. And not to be outdone by Andy's strong low notes, tenor Jason will often throw in animals noises to their songs. "Kids are drawn in by being a little goofy and animated. They get over any feelings they have to act cool once I bust out with a sheep noise!"
Animal noises aren't the only fun experience in a Go Fish concert. "A lot of kids' concerts today have the big characters dancing around, lip-synching to music—really, really kidsy," explains Jamie. "Most kids have never been to a real concert before C9 so at a Go Fish concert, they're freaking out at the smoke machine and the lights and the whole thing."
These guys love what they do and treasure the trust parents give them by allowing their young children to listen to their music. "I can't think of anything better than what I am doing," says Jason. "Music has always been a big part of my life, and the fact that I get to do it for a living and enjoy what I do is probably my favorite part about what we do in Go Fish. And more importantly, sharing a message of hope through that music and ultimately see liv es changed because of it."
As with any group or artist, having fun outside of work is important, and Go Fish is no exception (although the three best friends confess that just working together on Go Fish is a lot of fun!). Jamie, who writes much of the group's music, loves spending time doing normal day-to-day stuff with his wife, Julie, and sons Mason, 2, and Parker, born December 2005. Andy spends time with his wife, Amanda, and daughters Ella, 2, and Britten, born in September 2005. Andy also enjoys working on his motorcycle and riding it with Jason, his Go Fish pal. Jason and wife, Amber, spend a lot of time outside. He loves going to his parents' hog farm in Iowa to work alongside his dad and drive the heavy equipment.
July 26, 2006
July 25, 2006
July 22, 2006
July 21, 2006
July 20, 2006
July 19, 2006
July 17, 2006
July 13, 2006
July 12, 2006
July 10, 2006
July 9, 2006
July 7, 2006
July 5, 2006
July 1, 2006