November 18, 2015
Review - King's Singers offer their polished template
Washington Post:
Small musical ensembles — a quartet, an a cappella chorus — are inextricably bound up with their members, and as they age, they will either change members or shut down. The King's Singers, the beloved male vocal sextet founded in 1968, has opted for the former; it has had 24 members, and the group that stood at the front of St. John's Episcopal Church in Georgetown on Sunday seemed fresh as a caterpillar that has just shed its skin.
Youth, indeed, is one of the group's stocks in trade. Its particular hallmark is a kind of adult boy-choir sound, a sweet, sexless, tight-knit, pillowy blend. It has turned this sound into a versatile vehicle for a brand of music that dances along the line between art and artsy. Its program "Postcards," featured on a recent CD and at Sunday's concert, offers songs from around the world, such as the Korean folk song "Arirang," a Welsh lullaby and the familiar strains of "Volare," all linked by the four parts of a commissioned work by Elena Kats-Chernin, "River's Lament."
Choirs can be jolly, and they can be earnest, and they are the tiniest bit sanitized. The King's Singers offer a slick package, polished to a fault — down to the boyish, G-rated banter with the audience — and beautifully balanced. They do justice to unfamiliar music (such as the stirring "Horizons" by Peter Louis van Dijk, a tribute to a lost South African tribe, that opened the program) and offer adroit arrangements, like clever little rebuses that have to be worked out to find the familiar answer, of well-known works such as "Swing Low, Sweet Chariot" (a word they unaccountably pronounced as "chari-OH").
November 6, 2015
TV project seeks a cappella groups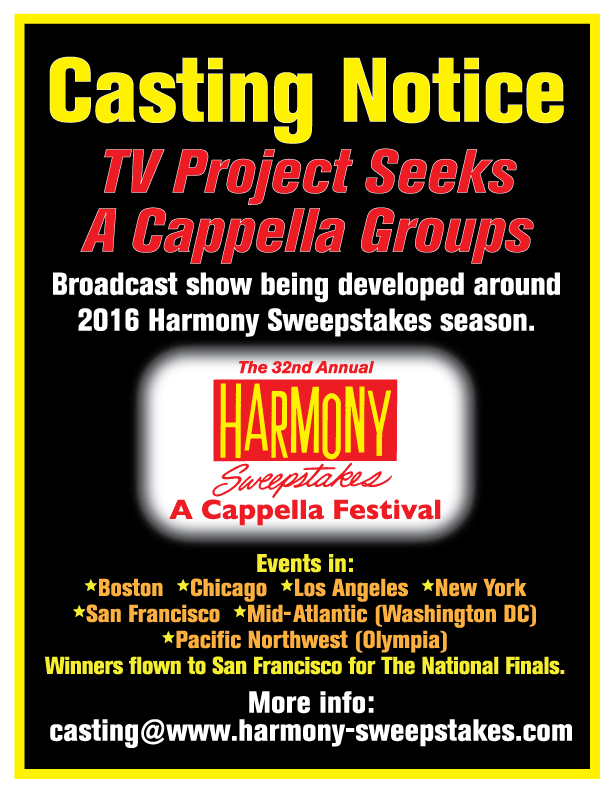 The Harmony Sweepstakes A Cappella Festival is pleased to announce that Emmy-Award-winning TV production company One Louder Productions are developing a new TV series based around our 2016 events. Now in our fourth decade of finding and presenting top vocal harmony groups we are excited that veteran TV producer Bob Kusbit (MTV) is interested in creating a reality television series focusing on the groups as they rehearse, prepare and perform in the competition.
Casting director Ellen Berkman Davis is seeking groups with big personalities, great talent, with interesting and unique musical choices. A cappella groups of all styles, genders and ages with between two to eight members are welcome to apply.
November 3, 2015
Original Voices of Liberty singer taking final bow
Orlando Sentinel
On the day that Epcot opened in 1982, Debbie Johnson was there, singing.
More than three decades, meetings with four presidents and thousands of "Skip to My Lou" performances later, one of the theme park's original Voices of Liberty is on the edge of retirement. Johnson's swansong with the a cappella Americana group is Saturday.
That's a lot of "Battle Hymn of the Republic" over the years.
"You do pace yourself," said Johnson, 62, of her regimen. "And you're just wise and you hope allergies don't get the better of you. You get your sleep, you drink your water and you avoid — I mean, I do — smoking and drinking, those kind of healthy things."
The Voices of Liberty perform seven 15-minute shows daily in the American Adventure pavilion. Park visitors sit on the floor in front of the 12-member group, dressed in 1800s-style clothing. They are known for gentle songs such as "Shenandoah" and arrangements with big, powerful finishes. Folks feel the vibration beneath the rotunda.
A former director dubbed that effect "85-103," Johnson said.
"We hit that last chord at 85 percent of volume and then we pump it to 103 and add the vibrato," she explained. "It's something you can feel from your toes to the top of your head. … It's absolutely thrilling and just satisfying and rewarding."
Johnson moved cross-country from Washington to be part of the group and Epcot's debut. She had studied music at George Fox University in Newburg, Ore., and traveled with a musical group called Re'Generation, but Disney World was her first long-term paying singing gig.
"This was something that had never been done in a theme park: This kind of music, this kind of message. Who would expect it in a theme park?" she said.
Now, she is the final of the original Voices to be with the group.
Johnson's experience is valuable to the Voices' newer members, some of whom are younger than Epcot, said Melissa Hoepner, entertainment guest-service manager.
"She definitely brings heritage to the group — the history and traditions," Hoepner said. "She's a fabulous storyteller. I love just sitting and listening to what happened in 1982."
Johnson has been married for more than 30 years to Derric Johnson, who was the first show director for Voices of Liberty as well as the primary arranger. They have three grown children and four grandchildren scattered from Miami to Oregon. In retirement, Johnson intends to travel with and support her husband, who has several creative projects in the works.
"We enjoy spending time together," she said. She will now be more available to attend conferences and workshops with her husband, she said.