March 23, 2016
David Hurley - An a cappella icon
If there was ever an A Cappella Hall of Fame (and who knows maybe one day there will be) then one of the very first inductees should certainly be countertenor David Hurley. After 26 years with the King's Singers I can't think of anybody who has sung as much amazing a cappella, in as many prestigious venues, in as many countries as he has.
David will be retiring later in the year and here is a fun interview he did with the Guardian called "26 years with the King's Singers: Chicken testicles, Stravinsky on the wall and ushers with laser pens"
March 8, 2016
The 2016 Harmony Sweeps season begins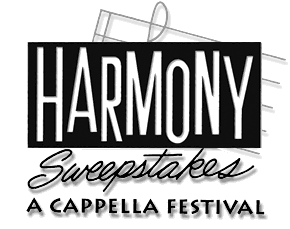 The new season of the Harmony Sweepstakes season began with turn-away crowds at the Mid-Atlantic Regional held at the legendary Birchmere Music Hall this past weekend. Congratulations to vocal jazz quintet West Side 5 for their win and we look forward to seeing them in the National Finals. The other regionals are coming up and full house are expected so be sure to get your tickets soon.
March 12, San Francisco - Palace of Fine Arts
March 12, Pacific Northwest - Washington Center for the Performing Arts
March 19, New York - Miller Theater, Broadway at 116th Ave
April 2, Los Angeles, Hermosa Beach Theater
April 3, Chicago - Northshore Center for the Performing Arts
April 16, Boston - Somerville Theater
May 14, National Finals - Marin Center, San Rafael, CA
Hope to see you there!
March 4, 2016
Bobby McFerrin cancels tour
Bobby McFerrin has cancelled all his upcoming dates for health reasons. We wish him a speedy recoverey.
An official statement from McFerrin's representatives:- "On the advice of his doctors, Bobby McFerrin has made the difficult decision to withdraw from traveling and performing for the immediate future. He is working with specialists to evaluate, understand and address his symptoms, which include vocal weakness and chronic fatigue. We deeply regret the necessity of canceling upcoming engagements. We hope to reschedule as soon as Bobby's health allows and return to the business and pleasure of making music."